Level 6 Qualification in Aesthetic Injectables
What is Level 6 in Aesthetic Injectables?
Level 6 is the 'GOLD STANDARD' entry level qualification for Aesthetic Injectables!
NATIONALLY RECOGNISED: Level 6 is a nationally accredited qualification as it is regulated by OFQUAL and certified by Gatehouse.  
Accreditation will "enable learners and employees to achieve their individual goals, securing their future and offering opportunities in education and work throughout their career and their journey of lifelong learning."
Cost effective - Level 6 is considerably more affordable than other regulated courses. There are  finance options available to suit your needs.
Time efficient - Level 6 has been designed to work around your schedule and can be completed at a faster rate if your schedule allows.
HANDS ON TRAINING & MENTORING:
Treating live models is imperative towards gaining your Level 6 and becoming a confident practitioner. Projecting confidence is essential to put your patients at ease
There will be a FAST TRACK route to this qualification that acknowledges your prior learning in Botulinum Toxin or Dermal Filler if you meet our entrance criteria.  If we recognise your previous training, you will only be required to complete the manuals, assessments, reflections, exams and portfolio submission.  The cost of this is from £995 - £1,300 plus VAT, depending on your current position regarding previous training.
Level 6 is an educational benchmark; a concrete, measurable qualification of your skill and knowledge. It has been developed to create competent and practically self assured practitioners who want to demonstrate their exact skill set. In an unregulated industry, Level 6 provides a cost-effective pathway to achieve a nationally recognised, accredited qualification.
.

Why are we now offering this Regulated Qualification?
The idea of having standardised levels of competency and skill within aesthetics stemmed from Health Education England. They strongly advised that there should be a clear framework of qualifications in order to perform non-surgical aesthetic injectable procedures. This led to the recommendation that training should be uniform, allowing the public to have confidence in the practitioner performing their treatment.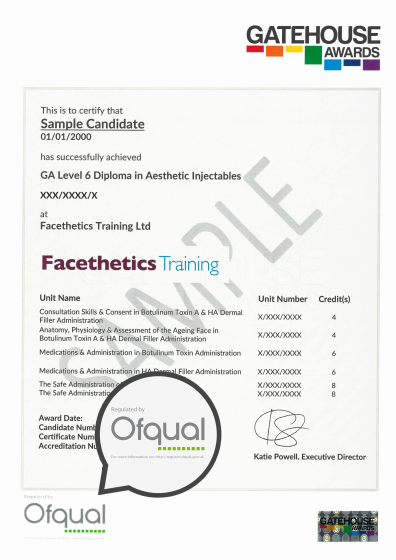 Why Level 6?
The small number of qualifications developed so far have been out of reach from both a practical and financial perspective.
Our Level 6 has been structured in such a way that it will suit both a beginner entering the field of aesthetics and those practitioners wishing to convert their current qualifications. It has been developed by highly knowledgeable practitioners with expertise in aesthetics. The comprehensive format allows our students to achieve the Level 6 in a time efficient and affordable manner.
How does the Level 6 Qualification work?
There are two different types of Level 6 qualification and students can choose which of these they wish to complete;
- Level 6 Certificate in Botulinum Toxin
- Level 6 Certificate in Dermal Filler
- Level 6 Diploma in Aesthetic Injectables (awarded when both Certificates are completed)
Following our current format of courses here at Facethetics, the Level 6 qualification will include pre-course reading and e-learning delivered via our virtual platform, alongside online assessments, practical training sessions and practical assessments, which will take place at our training centre. The course materials have been uniquely designed to be delivered and presented in an inclusive, blended format that will be beneficial to your individual learning style and delivered at a pace that is right for you.
We pride ourselves on the support we offer, guiding you every step of the way and enabling you to be confidently prepared. 
CLICK HERE TO APPLY FOR LEVEL 6
On receipt of a deposit for your course, you are automatically agreeing to our Terms and Conditions.