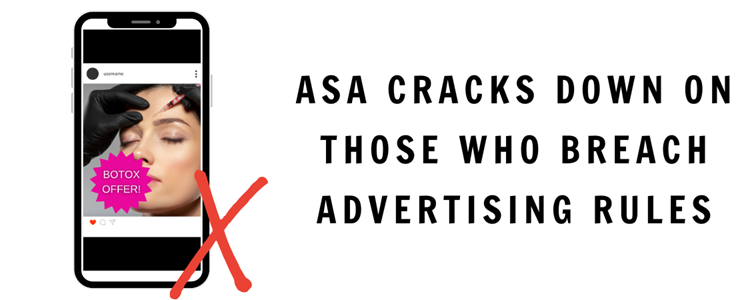 Reminder to all aesthetic practitioners that you are not allowed to advertise POMs in any way, even if you're putting out a request for models.
A recent ruling by the Advertising Standards Agency (ASA) against an aesthetic practitioner in London highlights this. 
The practitioner posted in a Facebook group called "UK AESTHETICS & BEAUTY MODELS WANTED" stating that she required models for Botox and B12 Injections. This post was challenged by the JCCP as it was advertising prescription-only medications to the public, which breaches the CAP Code.
The ASA upheld the JCCP's complaint and took action against the practitioner in question.
There has been an increase in ASA rulings against aesthetic clinics this year after a study conducted by UCL showed that 88% of clinics in London were breaking the law by using words such as "Botox" and "anti wrinkle injections" in their advertising. 
Any and all references to botulinum toxin injections, such as using brand names (Botox, Bocouture etc) or phrases such as "anti wrinkle treatment" or "wrinkle relaxing injections" must not be used by practitioners or clinics to promote their services. This applies to all forms of advertising, from social media posts to posters and leaflets. The rules also apply to other POMs such as B12 injections.
If you're unsure of what you can and can't mention in your advertising, be sure to check what the ASA says about it. You can find in-depth advice here, as well as a series of video explanations here.