Facethetics Training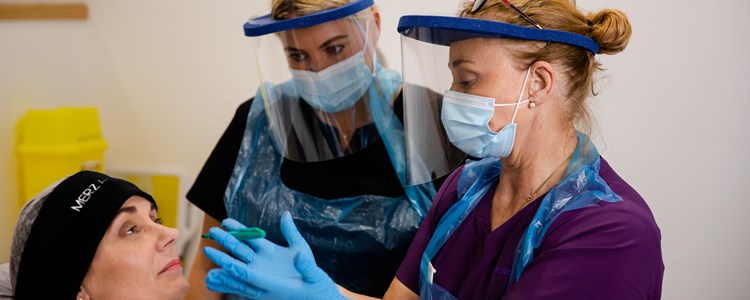 Why train with Facethetics?
Our injectables are taught by our experienced Faculty and we are UNIQUE at Facethetics as our Lead Educator holds a Post Graduate teaching qualification, therefore, we are able to give you the best learning experience, allowing you to become a confident and safe Practitioner.  Our Educators have extensive knowledge from working in both the NHS and Aesthetic Medicine. 
We have 2 trainers with Cert Ed qualifications, this is unknown, as the majority of training schools do not have such highly skilled and knowledgeable clinicians who can academically combine proven skills in teaching.
We are fully endorsed by reputable insurers
Our Level 6 course is accredited by Gatehouse and many courses are CPD certified. This is indicated with the CPD Logo
We keep our groups small (the majority of our courses are no more than 4 to 5 students per tutor)
We provide comprehensive pre-course reading and e-learning materials before every course 
We have great relationships with some of the top suppliers and distributors in the industry, meaning that we are often amongst the first in the country to learn about new products and techniques, which we can then pass on to our students!
We cater for all levels of expertise, from Botox for Beginner's to Advanced techniques.
We offer post-training support via our Discussion Group, our Supervision Days and our friendly team who are always on hand to answer any questions or concerns you may have.
Our educators are some of the best in the business as mentioned above.
Our team can provide advice on all those extra elements, such as insurance providers, products, suppliers and pharmacies 
We can put you in touch with prescribers in your area if you do not hold a prescribing qualification yourself
We offer an emergency kit, which can be pre-ordered, as well as lists of products and equipment you will need to get started once you've completed your training
Who we are
Facethetics Training are a medically-led training provider based in the North West. We deliver training in medical aesthetic procedures, such as Botox, dermal filler, PDO threads and PRP. Now in our fifth year of business, we have rapidly become on of the UK's leading aesthetic training providers and pride ourselves on delivering the highest quality of training.
Our mission
We exist to provide aesthetic practitioners with the knowledge, understanding, skills and confidence, to safely and successfully perform aesthetic procedures on their patients. We believe that only the highest standards of education will suffice in the aesthetics industry and it is our aim to promote the safest clinical methods and practice. Your success is our priority.
Our team
All of our courses are delivered by our highly skilled and knowledgeable educators, who come from a variety of medical backgrounds and have built up many years of experience treating patients in their own clinics. Yvonne Senior, our Lead Educator, oversees all of our courses and is passionate about mentoring and coaching aesthetic practitioners to achieve standards that will set them apart from the crowd.  As mentioned above, we have 2 trainers, including Yvonne with Cert Ed qualifications, this is unknown, as the majority of training schools do not have such highly skilled and knowledgeable clinicians who can academically combine proven skills in teaching.  These teaching and assessing skills which mean we fully understand individual learning needs and styles and can deliver material concepts accordingly.
Our training
While our training process is extremely professional, all of our training courses take a relaxed, friendly approach. We find that this is the best way to allow for maximum learning. We aim to create a non-threatening environment that encourages delegates to ask questions and to feel safe and supported during their training. Whether you are a total beginner taking their first steps into the aesthetics industry or an experienced injector looking to further their knowledge and skill set, we will support you throughout the training process and in the weeks and months afterwards.
Our "behind the scenes" admin angels
We have a team of attentive, polite and accommodating administrative and support staff who strive to ensure you get the maximum from your learning experience.  Our team are dedicated to providing:
Excellent and confidential customer service from your first point of contact and throughout your whole journey with Facethetics Training and beyond.
Efficient and aided booking, payment and information systems for each of our educational events including bespoke package organisation
E-learning, which is distributed and reviewed for completion prior to attendance
Models, who are available and looked after on the study days, with pre and post photography, review appointments organised and all documentation available and completed
Attention to ensure that all your needs are met, with refreshments and lunch provided
Certificates are printed and signed for you to take away, once approved by our educator, upon completion of evaluation
Additional learning materials are available at the start of your training
Contact with our education team for your clinical and practice queries and any individual additional information required