Perform the art of facial rejuvenation in 3 days with comprehensive pre-course learning!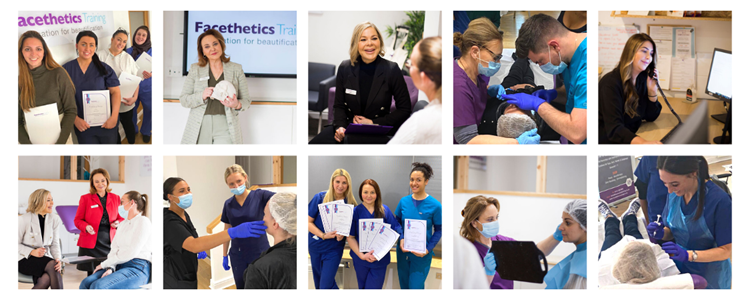 Click here to BOOK NOW and start your aesthetics journey!
Welcome to Facethetics and the growing world of Aesthetics!
What's in it for you?
You will be joining thousands of healthcare professionals who have been burnt out and have made the switch to cosmetic injectables. If burn out feels like your "norm", with too many hours and too many patients, then aesthetics could be the perfect new direction for you!
We are here to guide and support you on this journey to having your own successful aesthetics practice, improving your quality of life along the way.
Completion of Day 1 means you have just learnt how to administer the world's most popular injectable anti-wrinkle treatment.  You're on the way to a new career that could earn you up to £35,000 + a year.

Day 2 and you discover that fillers are wonderful! They are gel-like substances, injected beneath the skin to smooth lines and wrinkles, lift tired cheeks and restore plumpness. They deliver natural-looking results which can be immediate and delightful, happy patients make happy practitioners, that's you.

Day 3 and you are introduced to lip fillers, they are the talk on well.... everyone's lips! You only need to spend 3 seconds on Instagram before you see a pouty pair of lips, which is amazing, because they are doing the marketing for you!
Should I start my training with Foundation Botox or should I start with Foundation Dermal Filler?  Should I do both together plus Lips?
This is something we get asked a lot, and, to be honest, there is no right answer!
Some of our learners choose to start with Botox, some start with Dermal Filler and some choose to do both together. You will know yourself how you learn best.
Day 1 - Foundation Botox
Day 2 - Foundation Dermal Filler
Day 3 - Universal Lips
We offer individual days or our 3 Day Foundation Botox, Dermal Filler and Universal Lips course to allow for all learning styles. We cover vital aspects of aesthetic treatments, including Patient Consultation, Facial Assessment, Pain Management, Complication Management, Injection Techniques, Product Selection and more.
(Please note: in order to attend Universal Lips, you must have completed Foundation Dermal Filler first)
Prescribing
If you are planning to train in Botox, remember that you will need to be an Independent Prescriber, or work alongside one, in order to prescribe Botulinum Toxin for your patients. Click here for more information on Prescribing. 
Setting up your business
Have you thought about how you will market yourself on completion of training? We have marketing guides that will help you and we will offer as much advice as we can regarding setting up your new small business. Will you start by going mobile? Will you rent a room? Are you already part of a practice or clinic? Call us and talk things through, we are here to listen and to help.  Call us on 0151 559 0865 or email:  hello@facetheticstraining.co.uk.
Other things to consider
When choosing who to train with, think about the practical hands-on experience you will receive, the facial assessment time and the ongoing support that you will need. At Facethetics Training, we pride ourselves on the quality of the learning materials we supply, the on-site theory and practical sessions you receive and the continuous support we offer you, even after you have completed your training with us.
The staff at Facethetics are warm and approachable and are here to guide you on this new pathway. We are always readily available to answer any questions and assure you that your journey with us does not end when you walk out the door.
Entry Requirements:
The Foundation Botox and Foundation Dermal Filler courses are open to the following medical professionals only;
Doctors, Nurses, Dentists, Dental Hygienists, Dental Therapists, Pharmacists, Paramedics, Physiotherapists and ODPs.
(GMC, GDC, NMC, GPhC and HCPC)
Universal Lips is open to the above medical professionals, who have also completed Foundation Dermal Filler.
All applicants will be assessed individually on experience, skills and knowledge.