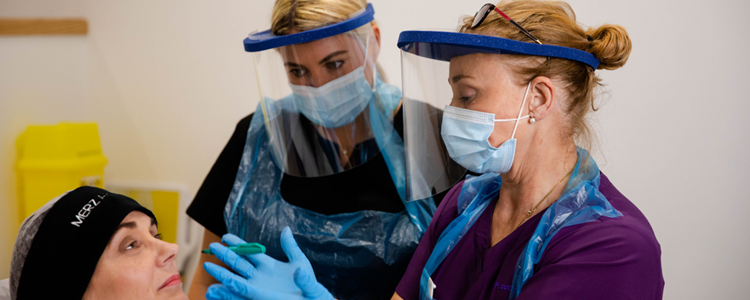 Duration: 1 - 2 days
Level: open to Beginner, Intermediate and Advanced practitioners
Price: from £1995 + VAT - £3995 + VAT
Entry Requirements:

Medical professionals ONLY

MEDICAL
Course Dates
Book Now
This is injectable training for medical professionals only as stipulated on our entry requirements.
This is private, one to one training with one of our aesthetic educators.
If you prefer to train on a 1:1 basis, rather than in a group setting, this option is available.
Private 1:1 Foundation Course
We can offer our Foundation Botulinum Toxin, Dermal Filler & Universal Lips training as a private 1:1 course delivered over two consecutive days.
Day 1 - Foundation Botulinum Toxin
Day 2 - Foundation Dermal Filler & Universal Lips
Total cost: £3995 + VAT
(Alternatively, each of these modalities is available as a private, individual training day for £1995 + VAT)
Private Bespoke 1:1 Training
We also offer 1:1 BESPOKE training, that is completely tailored to you as an aesthetic practitioner. Let us know the treatment(s) or indication(s) that you wish to focus on and we will build the day around you. 
We work with you on how to best utilise the day in order to provide you with the knowledge and practical skill you require. 
This option is available for both practitioners brand new to the industry with no prior experience, as well as established practitioners who would like to focus on a new skill or technique, or who feel that they require further support and guidance on treatments that they are already delivering.
If you are interested in private training please contact us directly for further details. We will require background information regarding your practice and experience to date so that we can best structure the day.
Enquire Now
Apply Now
Cancellation Slot
OFFERS
from £1995 + VAT - £3995 + VAT
Medical professionals ONLY