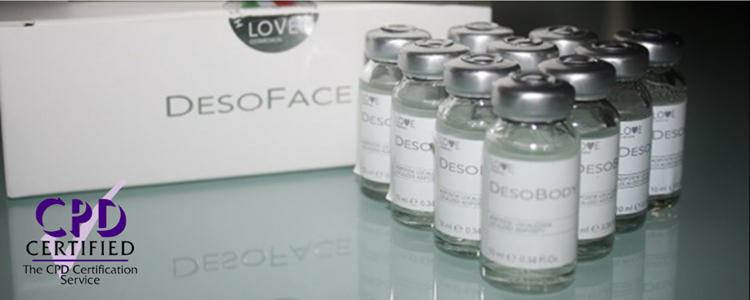 Duration: 1 day
Level: Advanced
Price: £875 + VAT
Entry Requirements:

This course is open to the following medical professionals;

GMC, GDC, NMC, GPhC and HCPC who are already trained in Advanced Dermal Fillers and meet our entrance criteria on application. 

MEDICAL
Course Dates
Book Now
Fat Reducing treatment by Intralipotherapy
DESO BODY and DESO FACE are the next generation of injectable Deoxycholic Acid 'fat dissolvers' in the UK.
The new fat dissolving injection is designed to treat those difficult localised pockets of fat.
In line with similar injectable treatments, the active ingredient is Deoxycholic Acid, proven to reduce fat deposits for the right patients. The product is conveniently separated into a face and body concentration Desoface and Desobody and side effects are minimal.
The sterile solution is indicated for localized adiposity of the face, neck and body.  When treating the body localised adiposity is reduced and skin firmness is improved.  When treating the face, drainage of excess fluids takes place as well as reduced localised adiposity.
This treatment requires skill with administration to obtain the best results. Injections may only be administered subcutaneously, avoiding muscular or dermal tissue.
We require you to be a Practitioner who has been trained in injectable aesthetics and practising regularly for up to 2 years and to be trained to an advanced level in Dermal Fillers. Please submit an application form with as much information about yourself and your training.
This course is worth 10 CPD Hours.
What is Deoxycholic Acid?
Deoxycholic acid is a bile acid which emulsifies and solubilizes dietary fats in the intestine, and when injected subcutaneously, it disrupts cell membranes in adipocytes and destroys fat cells in that tissue making it the perfect agent to remove stubborn pockets of fat such as under the chin, stomach, back rolls, flanks and around the knees.
Yvonne Senior, our lead Educator was one of the first of only a handful of medical practitioners in the UK to be introduced to DESO and has subsequently trained over 100 delegates to treat their own patients with this unique product.  
As a nation we are offering more and more sculpting treatments as patient demand increases and, like most non-surgical fat reducing procedures, intralipotherapy using DESO FACE and BODY is not intended for the obese body but does target the fat at cell level making it one of the most successful formulas for targeting specific areas.
We will cover the off label use of DCA on the day but are happy to answer any questions you may have prior to training.
For this course we ask delegates to bring a model with them on the day of training with a cost applied to the model.
Or if you are training on the day and would like to experience the treatment yourself then email us at hello@facetheticstraining.co.uk and we can arrange this. 
Call 0151 559 0865 for more information or email us to reserve a place.  
FREE observation:  If you feel that you need that additional support or life got in the way immediately after training, with adequate notice, we can book you onto the afternoon of another Deso course to watch the procedure being done on our models.  We just ask for a £30 deposit.  This can then go on account towards future training, it will not be refunded.  If you do not turn up for the observation day, without 2 weeks notice, the deposit will be lost.
On receipt of a deposit for your course, you are automatically agreeing to our Terms and Conditions.
Enquire Now
Apply Now
Cancellation Slot
OFFERS
There is no pre-course reading or assessment prior to theory as a manual is provided on the day. 
You will receive consent forms which are extremely informative and allow you to ruminate about the procedure you are training to deliver.
9.45am - Registration
10.00am - Theory and discussion 
11.30am - Live demonstration of a Fat Reduction treatment carried out by our Educator
12.30pm - Lunch break
1.00pm - Practical session
4.30pm - Q&A
5.00pm - Finish
£875 + VAT (£1050)
(£25 discount if you have trained with us on one of our medical courses)
To make payment please call 0151 595 0865 or you can pay by bank transfer, bank details will be given upon receipt of application form.
FINANCE is available or the payment plans below:
Payment plans
We offer finance options with Klarna or we can develop a bespoke payment plan on request.  Contact us for more information 0151 559 0865
This course is open to the following medical professionals;
GMC, GDC, NMC, GPhC and HCPC who are already trained in Advanced Dermal Fillers and meet our entrance criteria on application.