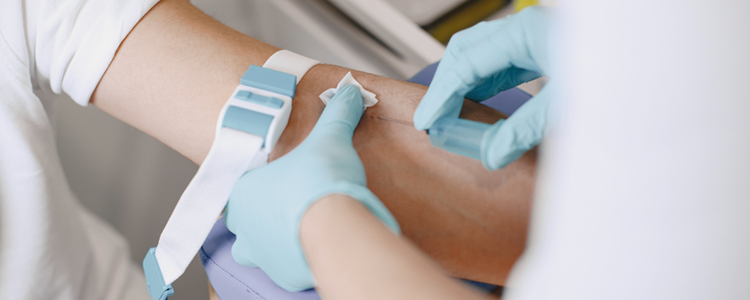 (Maximum 2 delegates per training session)
This course is designed to provide delegates with the knowledge and skills to successfully and safely insert a peripheral venous cannula and take blood samples.

The course begins with a practical workshop, which covers; 
The professional aspects of venepuncture
The venous anatomy of the human arm and leg
The criteria for vein selection
Equipment available
Common complications
Infection control
Delegates will then be given practical instruction and supervision on how to take blood samples using the most up to date training mannequins available.
How is the Phlebotomy Venepuncture training course assessed?
Delegates are required to demonstrate what they have learned that day through both practical and theoretical assessment. They will complete a minimum of 5 procedures under the supervision of our Educator, as well as being assessed against a list of competencies to ensure that they have a full understanding of the various factors surrounding venepuncture.
Is the Phlebotomy Venepuncture training course open to anyone?
The Venepuncture is open to medical professionals and beauty therapists who are qualified to Level 3 and above. Beauty therapists who are qualified to Level 2, who have completed our Skin Health "bridging the gap" course.
Following the Phlebotomy Venepuncture course, what support will I receive?
Our team is always on hand to answer any questions that you may have upon completion of the course.
Enquire Now
Apply Now
Cancellation Slot
OFFERS
Course Agenda
9:00am - Registration
9:30am - Overview of procedure
11:30am – Practical training on mannequins
12.30pm - Lunch
1.00pm – Practical assessment on models
4.30pm – Finish