Duration: 1 day
Level: Beginners
Price: £550 + VAT
Entry Requirements:

This course is open to the following medical professionals only;

GMC, GDC, NMC, GPhC and HCPC

HCPC applicants will be assessed individually on experience, skills and knowledge.

MEDICAL
Course Dates
Book Now
What is Microsclerotherapy?
Microsclerotherapy is a procedure used to treat thread veins (also known as "spider veins") on the legs. It is one of the most effective treatments available for the removal of thread veins.
What does a Microsclerotherapy treatment involve?
A very fine needle is used to inject a sclerosing agent directly into the thread vein. The sclerosing agent flows through the vein and stimulates the walls of the vein to swell up. The swelling prevents any blood to pass through the vessel and this causes the vein to shrivel up and disappear. Generally patients will require two to three sessions for thread veins to be completely eradicated.
What does the Microsclerotherapy training course involve?
The course is worth 9 CPD hours and covers all elements of identifying and treating thread veins with microsclerotherapy including;
Anatomy and Physiology of Veins

Vessel Classification

Sclerosing Agents

Patient Examination and Suitability for treatment

Contraindications

Consultation and expected Results

Injection technique/practical

Complications

Post treatment management

Compression
All delegates will be sent e-learning which must be completed in full before the day of the training course. The training day itself starts with a theory session in the morning, allowing delegates to discuss their pre-course reading in depth and raise any questions they may have with our Educator. Upon completion of the theory session, our Educator will demonstrate a Microsclerotherapy treatment on a model. The afternoon sessions gives each delegate the opportunity to carry out a Microsclerotherapy treatment on a model and to observe their fellow delegates treating models also. They are closely guided and supervised by our Educator during the practical portion of the day.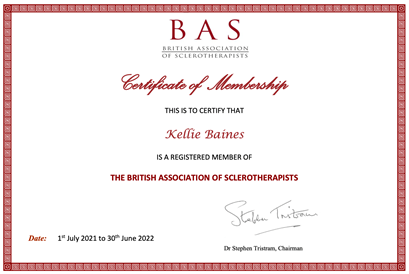 What additional support offered to attendees of the Microsclerotherapy course?
All Facethetics Training delegates are able to access their e-learning materials for 12 months. E-learning is an extremely valuable resource to delegates as, in addition to the educational materials, it also contains various useful documents including;
Consent forms

Patient advice sheets

Treatment records

Treatment info sheet

Photographs of complications and treatment results
We encourage our delegates to regularly re-visit their e-learning; it is a comprehensive resource providing advice and guidance on everything from patient selection to management of complications. 
Should delegates need to get back in touch with Facethetics Training for any reason, whether it is to ask a question or for advice, our team is always happy to help and can be contacted via email (hello@facetheticstraining.co.uk) or by calling 0151 559 0865.
On receipt of a deposit for your course, you are automatically agreeing to our Terms and Conditions.
Enquire Now
Apply Now
Cancellation Slot
OFFERS
9:45am - Registration
10:00am - Theory & Demonstration
12.30pm - Lunch
1.00pm - Practical sessions
4.30pm - Q&A
£550 + VAT (£660)
(£25 discount if you have trained with us in Botox or Dermal Fillers before)
To make payment please call 0151 559 0865 or you can pay by bank transfer, bank details will be given upon receipt of application form.
FINANCE is available or the payment plans below:
Payment plans
We offer finance options with Klarna or we can develop a bespoke payment plan on request.  Contact us for more information 0151 559 0865
This course is open to the following medical professionals only;
GMC, GDC, NMC, GPhC and HCPC
HCPC applicants will be assessed individually on experience, skills and knowledge.