Thursday 14th October 2021, 6.30pm - 8pm
FREE TO ATTEND        (you will be asked for a £50 refundable deposit when reserving your place)
There are A LOT of aesthetic training providers out there. How do you choose the right one for you? 
Come along to our Open Evening!
Meet our team in person and look around our training academy
Hear success stories from former students
LIVE DEMONSTRATION - Lip Filler
LIVE DEMONSTRATION - Skin Treatment TCA Peel
Botox (Anti-Wrinkle Treatments)
Business advice
Learn how to promote yourself and stand out in the crowd
Find out about earning an additional income and how to make aesthetics fit around your working life
What to look for when choosing a training provider
Regulation and accredited qualifications
Book our 3 Day Aesthetic Injectables Course and receive:
Day 3 "Universal Lips Course" half price = £390 discount! 
Register your interest below.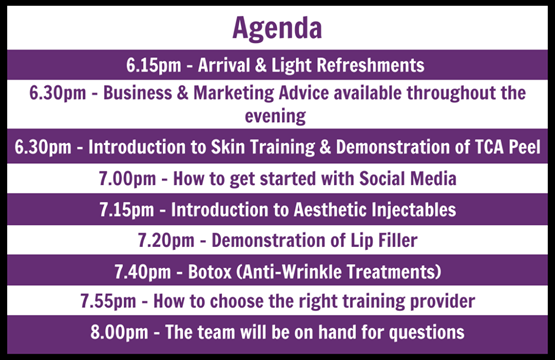 ADDRESS:
1 Woodlands Road, Aigburth, Liverpool L17 0AJ
Please register your interest by completing the short form below!