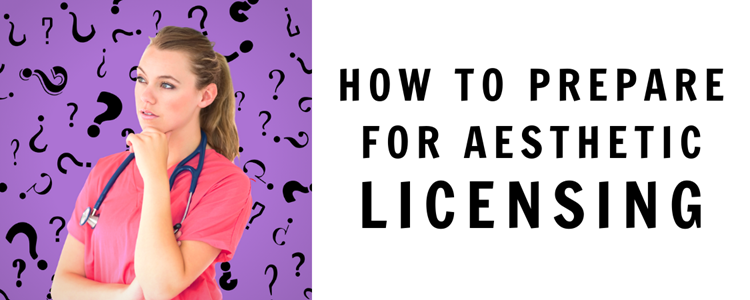 Reading time: approximately 3-4 minutes
Unless you've been hiding under a rock for the past few months, you're probably aware that licensing for non-surgical aesthetic procedures is going to be introduced in England. This was initially confirmed in March, as part of the new Health and Care Bill. The Bill received Royal Assent in May, meaning that the Health Secretary can now introduce the licensing scheme, making it a mandatory requirement that anyone who carries out injectable treatments must hold a license.
As we explained in our previous blog post, the licensing scheme is still in its very early stages and we don't yet know what it's going to look like, or what practitioners will actually have to do in order to obtain a license. We do expect that practitioners will be required to meet an educational standard. This may be Level 7, or it may be an equivalent qualification.
Although the details of licensing are still being worked out, we know that lots of you are wondering if there's anything you should be doing now in order to prepare. The main thing we want to emphasise is that you have plenty of time; this process could take up to two years so aesthetic practitioners do not need to panic! If you do want to start taking some steps to make sure you're ready for when licensing comes into action, here's what we suggest…
Get your CV in order
It's one of those jobs that we all put off, but if your CV isn't currently up to date, sit yourself down and spend some time on it. Make sure you've got all of your qualifications and training on there, as well as documenting any and all CPD that you've completed. Again, we don't know what's going to be required for licensing, but there's a good chance that you'll need to provide evidence of your experience and credentials, so your CV is a good place to start.
We'd also suggest making sure that you know where all of your training certificates are. Of course, for lots of you, they're probably framed and on the wall of your clinic or treatment room! But, if your certificates are tucked away in a folder somewhere, dig them out and make sure they're all there. And if any are missing, perhaps now would be a good time to contact your training provider and ask for a replacement.
Log your treatments properly
How are you currently logging your treatments? Are your consent forms, before and after photos and treatment records all up to date and in order? If you needed to quickly provide evidence of the treatments you've completed to date, could you do this? If not, it's time to get your paperwork and files organised and perhaps start getting a logbook together!
If, as we anticipate, a recognised qualification will be required for licensing, many practitioners will likely choose a "fast track" or RPL (Recognition of Prior Learning) option. RPL allows you to show evidence of prior treatments to demonstrate your existing skills and knowledge. So now's the time to start compiling your evidence so that it's ready when needed! 
Start thinking about what you'd like to see
After 1st July, there will be a consultation phase for the licensing scheme, where we will get to have some input into how licensing will work. Start giving it some thought now so that you'll be ready in July. What are your suggestions? Ideas? Concerns? This is a major development for the aesthetics industry and all aesthetic practitioners should get to have our say.
Government consultations are often done via an online survey, so once it's been confirmed how and where we can all submit our ideas, we'll keep you posted!
Don't worry!
It's understandable to be concerned about how we will all be affected by the aesthetic licensing scheme, especially while there is still so much uncertainty about what it will entail. However, as we've already explained, there is plenty of time to prepare - this is not something that's going to happen overnight! The main thing to focus on at the moment is getting organised. So look over that CV, check through your certificates and make sure your patient files are all in order. We're keeping a close eye on developments and will make sure to keep our delegates updated as and when we hear anything new.
We hope you found this article helpful! If you've still got questions about licensing for aesthetics, please do get in touch and we'll try our best to help. Give us a call on 0151 559 0865 or email hello@facetheticstraining.co.uk