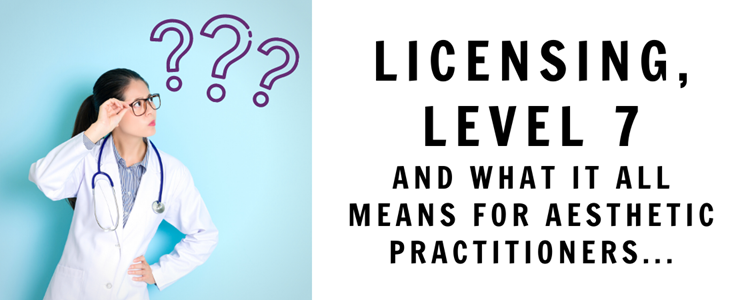 Reading time: approximately 4-5 mins
Since the announcement in March that England is to bring in a licensing scheme for non-surgical aesthetic procedures, there have been lots of questions and concerns within the aesthetics industry about how this is all going to work and how aesthetic practitioners will be affected.
While much of the information around licensing is yet to be determined, there are some things we do know. Keep reading for the full details.
What does Licensing mean?
On 1st March 2022, a new amendment to the Health and Care Bill was announced. This amendment gives Sajid Javid, the Secretary of State for Health and Social Care, the power to introduce a licensing scheme for non-surgical cosmetic procedures in England.
The proposed licensing scheme will require any practitioner carrying out aesthetic treatments to have a licence. It will be a criminal offence to practice without a licence and this will be enforceable by Environmental Health. A licence will be required for any treatment that penetrates the skin beyond the level of the dermis, including Botox and filler treatments, plasma and vitamin injections. It will also be required in order to obtain insurance.
It's important to note that the licensing scheme has not actually been passed as a law yet; the amendment must first be debated in Parliament. If passed, the new Health and Care Bill will likely be made law in July of this year, however, following this, there will still be a consultation period, while the scheme is developed, plus a grace period before the law is actually enforceable. There has been no definitive indication of timeframe but this could take up to 2 years.
Although it has not yet been decided what the licensing scheme will entail, we do know that practitioners will need to meet an educational standard in order to be eligible. This educational standard will very likely be an accredited qualification.
Where does Level 7 fit in?
Level 7 is a postgraduate qualification covering the practical and theoretical knowledge required to administer safe and effective non-surgical clinical aesthetic treatments. As it is an aesthetics qualification that was specifically designed to meet the guidance provided by a number of professional bodies, including the JCCP and HEE, we anticipate that Level 7 or an equivalent qualification will potentially be the educational standard for licensing.
Level 7 is open to healthcare professionals who are registered with a regulatory body, such as the GMC, NMC, GDC, or HCPC. New practitioners who are just starting out in aesthetics can complete a full Level 7 qualification, while seasoned practitioners can "fast-track" their Level 7 qualification, by showing evidence of prior learning and experience. 
What will licensing mean for my existing training?
At Facethetics, we have been anticipating changes to the industry for some time now and have put plans in place to ensure that all of our delegates are adequately prepared, should additional qualifications in aesthetics be required. We will be providing a pathway to Level 7 for all delegates who have trained with us over the years and will be assisting you in RPL (Recognition of Prior Learning) to convert your past training and experience and providing additional evidence probably via the examination route.
You may remember that we launched our Level 6 Qualification in Aesthetic Injectables back in 2019. At the time, Level 7 was financially unobtainable for many and we wanted to deliver an affordable, time-efficient qualification that was suited to both beginners and experienced practitioners. For those practitioners who have since completed Level 6 with us, you can now see this as a "stepping stone" towards Level 7, meaning that the amount of work and cost needed to fulfil Level 7 requirements will be significantly less due to your existing qualification. 
Should I train in Level 7 now? 
For any healthcare professionals who are just about to enter the industry, you may now be unsure about how to proceed with your aesthetics training in light of the news about licensing. Is it best to go straight in for a Level 7 qualification?
We would point out that, at this stage, licensing is still potentially 2 years away and we do not know for certain that Level 7 will be required. If you enrol and train in aesthetics now, you will still be earning income and gaining experience and confidence in your aesthetic practice. At Facethetics, our Foundation Botox and Foundation Dermal Filler courses actually make up part of our accredited Level 6 qualification. This means that anyone who trains with us on these courses, will be in a great position, should they decide to train in Level 7 further down the line, as your training can contribute towards your Level 7.
Licensing is a momentous step for the aesthetics industry and we celebrate anything that advances safety for both patients and practitioners. Over the coming weeks and months we will be keeping a close eye on the development of the licensing scheme and will of course keep you updated both here and on our social media channels. In the meantime, if you have any questions about licensing, Level 7 or anything else related to aesthetics training, please do not hesitate to get in touch with us, either by calling 0151 559 0865 or by emailing hello@facetheticstraining.co.uk
UPDATE - 13th June 2022
This is a short update in connection with licensing for non-surgical aesthetic procedures. 
After 1st July, as has been mentioned, we will enter a consultation phase. When this happens, you will have a once in a lifetime opportunity regarding your aesthetic career, to influence the shape of licensing. You will be given the opportunity to share your thoughts, concerns or ideas regarding licensing for non-surgical aesthetic procedures. Once we know more about how your opinions can be put forward, we will communicate this to you. In the meantime, start thinking about how you would like to influence the formation of licensing.
UPDATE - 2nd August 2022
A report was published today by the Health and Social Care Committee, containing a number of recommendations for regulation of non-surgical cosmetic procedures in the UK. One recommendation was that the aesthetic licensing scheme should be up and running by July 2023, meaning that licensing could be coming sooner than we all anticipated. We've gone into more detail on this subject in a separate blog post, which you can read here.