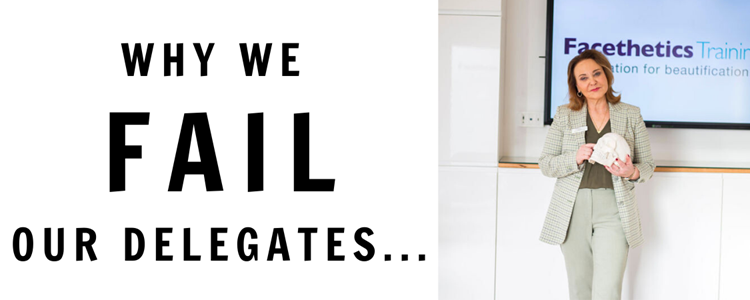 Reading time: approximately 2-3 minutes
Controversial blog post incoming… (Make sure you read to the end!)
We've had a few messages recently from prospective delegates asking if it's possible to fail our courses.
In short, yes it is.
If you train with us and we don't feel that you're ready to start treating patients at the end of your course, we will fail you.
DON'T CLICK AWAY JUST YET! KEEP READING!
The fact that we are willing to fail people should not put you off training with us. In fact, it's actually a good thing!
Let's start by saying it is very, very RARE for Facethetics delegates to fail their training. In all our years of delivering courses, there has only been a tiny handful of people that we couldn't give a certificate to at the end of their course. 
But it's really important to us that our delegates know that we would never, EVER send them out into the wild, unregulated world of aesthetics if they were unprepared. It's not ok. In fact, it's unsafe for your patients, unsafe for you and completely irresponsible of us. 
If we can see that a delegate is struggling during their training, we'll usually have a quiet word with them and explain that we feel they need some more support before they're ready to start practicing on their own. We then arrange for them to come back to us for further training.
A "fail" doesn't mean that we just abandon you and you've wasted your money and your time. It means additional support from us so that we can make sure you're fully armed with the knowledge, understanding and skill to start delivering safe, successful treatments.
From speaking to our own delegates and other colleagues in the aesthetics industry, we know that there are learners out there who have handed over thousands of pounds to other training providers, only to walk out of the door at the end of their training and realise that they are in no way prepared to put needle to face. It's a scary tale but also a cautionary one. Choose wisely when picking a training provider; sadly, they don't all have your best interests at heart.
At Facethetics, we often repeat the phrase "YOUR success is OUR priority", and we really do mean it. This isn't just about teaching you to inject and sending you on your way. It's about making sure that you are fully equipped with the knowledge, skill and confidence to become a successful aesthetic practitioner. It's why we offer ongoing support, observation days and mentoring. And it's why we don't hesitate to bring a delegate back for further training if we feel they need it.
So yes, we do, very occasionally, fail our delegates. And we're not ashamed to admit it!