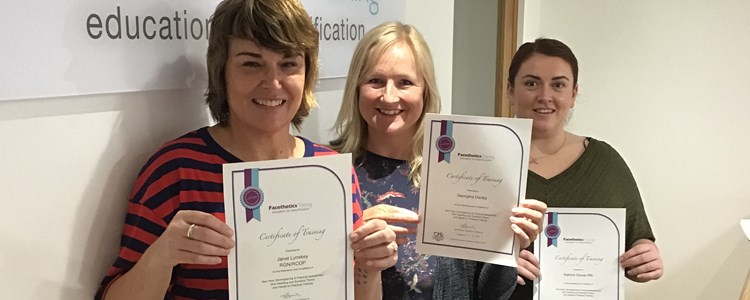 After our post last month answering lots of the questions that we're asked by people who are considering training, we thought that this month we'd take you through exactly what to expect from a training day with Facethetics.
Please note, some of our courses are shorter or follow a slightly different format, but for the majority of our full day courses, this is how the day runs.
Arrival and registration
Upon arrival at our training centre, you will be greeted by a member of the team and taken through to the Lounge, where you'll be asked to sign in. Our sessions usually start at 10am, so we ask that you arrive at approximately 9.45am to give us time to register you and check that you have everything you need for the day.
In the morning, we provide light refreshments such as pastries and cereal bars, as well as tea and coffee, so this is also a time for you to have a bite to eat and a drink, and settle in for the day.
Morning session: theory
Once everyone has arrived, you will be taken through to our training room where you will be spending the majority of your day. Our training centre has recently been completely refurbished and we now have two spacious training rooms, which are kitted out with comfortable, lecture-style seating, high-tech presentation screens, plus treatment beds to be used later in the day for the practical session.
You will be provided with a learning pack, which includes your training manual, plus additional useful documents and note paper. 
Our Educator will begin the session by introducing themselves and giving a bit of background on their experience within the aesthetics industry, as well as talking about the course itself and what the day will consist of.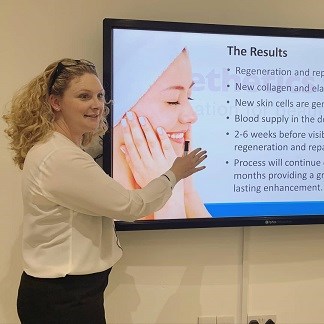 The morning session is dedicated to theory, so our Educator will recap and review everything that was covered in your pre-course reading, as well as giving you the opportunity to ask questions if there's anything you didn't quite understand or are unsure about. We aim to make our theory sessions as engaging as possible and encourage delegates to contribute to the discussion wherever they can. 
Once we've wrapped up the theory portion of the day, our Educator will bring in the first model for a live demonstration of the treatment that you are covering. The Educator will conduct a thorough assessment and consultation of the model, often asking  the class for input. They will then perform the treatment, talking through everything that they're doing, while you observe.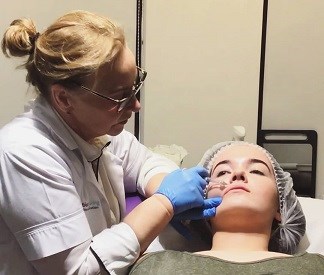 Lunch break
Lunch is provided by Facethetics and is usually served back in the Lounge. We always make sure to cater to any dietary requirements, which is why you will have been asked this on your application form.
During the lunch break, you can chat informally with both the Educator and the other delegates.  This is a great opportunity to find out a bit more about your fellow learners and share stories and experiences. We find that after a morning of learning, a relaxed lunch is a great way to break the ice. Many of our delegates stay in touch with one another after training, as it can be a great means of support.
Afternoon session: practical
After lunch, you will return to the training room and begin the practical session. Facethetics provides all models for the day and they will each arrive individually during the afternoon. Each model will be thoroughly consulted and assessed by both the Educator and the delegates. Where possible, each delegate will carry out a full treatment on their own model, with close support and guidance from our Educator, while the other delegates observe.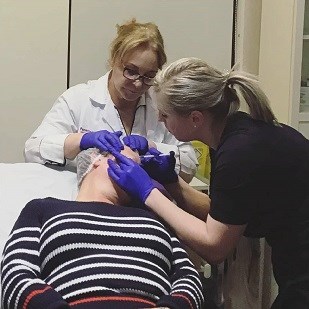 While some may find the prospect of treating a model in front of a group daunting, we always aim to keep this part of the day as stress-free as possible. Training groups are small, usually no more than four or five people in a session, and we encourage an open, supportive atmosphere throughout. Our Educator will guide you through the treatment, providing advice and encouragement at all times.
End of day
Once the final model has been treated, the Educator will wrap up the day with a final discussion and summary of what's been covered. This is once again an opportunity for you to ask any questions or go back over any details from the day that you wish to recap. 
As you leave, our admin team will be on hand with your certificates and to answer any queries that you may have about other training courses and bookings.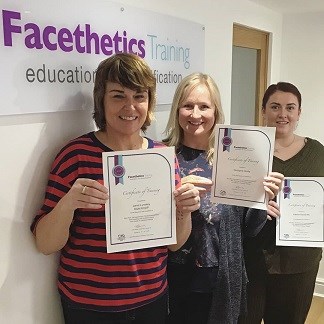 We ask all delegates to complete a brief feedback form to let us know how we're doing and what you thought of the session. This feedback helps us to continue to improve and update our courses. 
After your course
Even after you leave us, we're always on hand to support you if needed. Our friendly team are more than happy to speak to you via telephone or email and, should you have any questions relating more specifically to a treatment or medical issue, we can put you in touch with one of our Educators. We also have a private Facebook group that you can join after your training, where you can speak to other Facethetics delegates, ask for advice, chat about treatments and share case studies and stories.