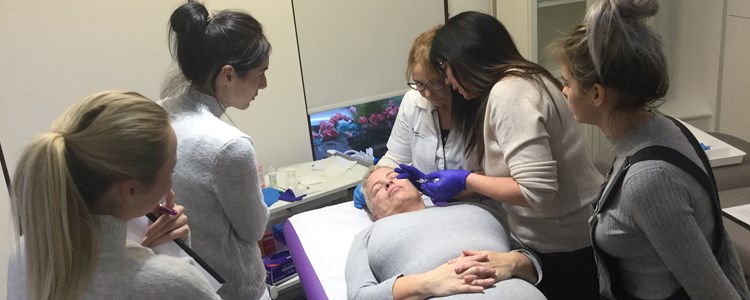 As you are probably aware, at Facethetics Training, we require models to have treatments during our training sessions so that our delegates can put into practice what they've learned. We are often asked by people who have not been models for us before exactly what happens when they come in for the first time, so we thought we'd talk you through the process here!
How to sign up as a model.
Signing up is very straightforward - simply complete our model application form. The form asks you to provide us with some basic information, such as your contact details, as well as which aesthetic treatments you're interested in having. Once you have submitted your completed form, you will be added to our models database and will start receiving emails and text messages from us when we require models for the treatments that you have specified an interest in.
How to book an appointment.
Once you receive an email or text message with details of a model appointment that you wish to book, we recommend calling us on 0151 559 0865 straight away. A lot of our appointments are in high demand so as soon as we send an email out with appointment details, we often receive an influx of calls. We generally book our appointments on a first come, first served basis, so it's always a good idea to call us as soon as you can in order to ensure that you're not disappointed. You can also email us on models@facetheticstraining.co.uk to book your appointment, however, it generally takes a little bit longer for us to book an appointment in this way, so if you urgently want a specific date or time, calling us directly is the best option.
Alternatively, if you would like to book a particular treatment but haven't actually received an email or text message from us with appointment details for this treatment, you can always give us a call to see if we've got any sessions coming up. We normally schedule our model appointments a couple of weeks in advance, however, our training dates are confirmed a few months in advance, so if you're happy to wait for an appointment, we can tell you what we've got coming up further down the line and book you in.
Before we can book your appointment, we must take a deposit payment from you. Unfortunately, due to models not paying deposits and then not turning up to their appointments, we can no longer book anyone in without taking their deposit payment first. Your deposit payment will stay on your account and will be taken off your bill at the end of your appointment when you come to make payment.
What happens when you come in?
When you arrive for the first time, you will be greeted at the door by a member of our team and brought through to our waiting area. You will be given some paperwork to complete; this includes a consent form with full details of the treatment you will be having, as well as a medical questionnaire which provides us with information regarding your medical history so that we can ensure that you're safe to have treatment. For the majority of treatments, we will take "before" photos and, if your treatment requires numbing cream, this will be applied after the photos have been taken. There will normally be some waiting involved when you're a model; we try to keep the day running to a schedule, but due to the nature of training, we may fall a little behind if our delegates are asking lots of questions or they need the Educator to go back over something. We always try to keep models updated on delays when we can. While you are waiting, you are welcome to use our Wifi, have a hot drink and just generally relax in our comfortable lounge.
What happens during treatment?
When it's time for your treatment, you will be taken through to the training room where you will meet the Educator and the delegates who are training that day. At Facethetics we keep our training groups small and usually the maximum number of delegates you will be faced with is 5, however, it is often less than this and sometimes it could even just be one person having a private mentoring session.
The Educator will assess you and discuss your treatment with the delegate(s). They may ask you questions about your age and lifestyle or ask you about what you've written on your medical form. Please do not be embarrassed by anything that you are asked during your consultation - it is treated as a professional medical appointment and anything discussed with the Educator and delegates remains completely confidential.
Once the Educator and the delegates have assessed you and discussed how they are going to proceed with your treatment, the treatment itself will begin. Sometimes our Educator may start your treatment in order to demonstrate the correct injection or application method, and then a delegate will take over, while other times the delegate may carry out the treatment in full. On some occasions, you may have more than one delegate performing your treatment, however, usually, we aim to keep to one delegate per model. The delegates are being closely observed and supervised by our Educators at all times to ensure that they are carrying out your treatment safely. The treatment will be taken at a pace that you are comfortable with, and the Educator or delegate will ensure that you're feeling ok throughout the procedure.
What happens afterwards?
Once your treatment is completed, the Educator and delegates will run through some aftercare information with you and then you will be taken through to our admin office where we may take "after" photos (depending on the treatment you've had and whether the results are immediately visible). It is also at this point that we will take your payment, deducting the deposit from your bill. If your appointment requires a review or "check up" to be taken in a couple of weeks, this will be booked for you as well. The majority of the treatments we offer do not require a review or check up appointment, however, should you have any concerns following your treatment, we encourage you to call us on 0151 559 0865 and, if needed, we will book you in to see one of our aesthetic practitioners at our medical clinic, which is located at the same site as Facethetics Training.
If you would like to be a Facethetics model, start by registering here. We also have a models FAQ section which provides further information on the various treatments available for models as well as prices.