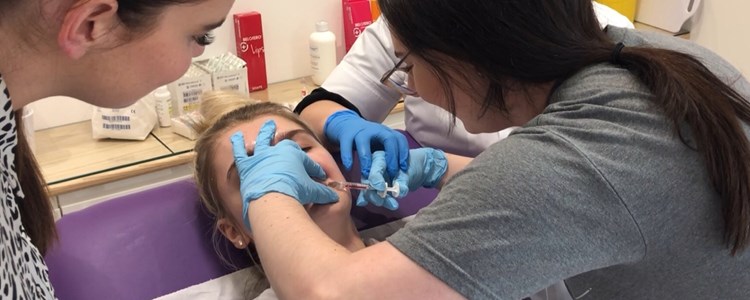 We always aim to include plenty of information about the business side of aesthetics during our courses, however, we know that many people, particularly those who are new to the industry, may prefer to get more of an insight into this before they actually pay for and attend a course. With that in mind, we thought we'd answer some of the most common questions that we are asked by people considering training in aesthetics.
Who can carry out aesthetic injectable treatments?
Currently, there are no regulations in place to specify who can or can't become an aesthetic practitioner. At Facethetics we only train medical professionals; ie doctors, dentists, registered nurses and other professionals allied to medicine, such as paramedics and ODPs. There are some training schools who will train non-medics in aesthetic treatments, however, if you do come from a non-medical background and are interested in training in aesthetics, it is worth noting that it can be more difficult - and more expensive - to obtain insurance. 
Will I need insurance?
Yes. Before you can start treating patients, you MUST be insured by a recognised insurance provider; you can not legally practise without this. Insurance varies in price depending on the provider and the treatments you will be performing, but on average it is between £400 and £500 per year, so this is something you will need to factor into your costs. When you attend training with Facethetics, we can provide you with details of our recommended insurance suppliers. It is important to remember that every time you train in a new treatment or product, you will need to inform your insurers so that they can add this to your coverage.
Where do I purchase products and equipment?
There are various pharmacies and suppliers from whom you can purchase products, as well as the equipment and consumables required to perform a treatment. Prices of products will vary depending on where they are being purchased from, as well as the particular brand. As part of our training courses, we always provide delegates with a full list of stockists and suppliers for every item required in order to carry out a particular treatment. Well known industry suppliers in the UK include; MedivaPharma, Healthxchange Pharmacy, MedFX and Wigmore Medical.
What if I am not a prescriber?
Botox is a prescription only medication, so if you wish to carry out Botox treatments, you MUST work alongside a medical professional who will see your patients face to face and prescribe the Botox for them, before you can administer it. This is the case for medical professionals who do not hold a prescribing qualification, as well as any non-medics who are carrying out Botox treatments. We have written a more in-depth article on this which can be found here.
How do I make money?
The answer to this question really depends on what you aim to achieve once you've completed training. Are you looking to gain employment in an existing aesthetic clinic? Open your own clinic? Work on a mobile basis? It is worth taking some time to really think about how you intend to make aesthetics work for you. Again, we have written a more in-depth blog focusing entirely on this subject, so click here to take a look.