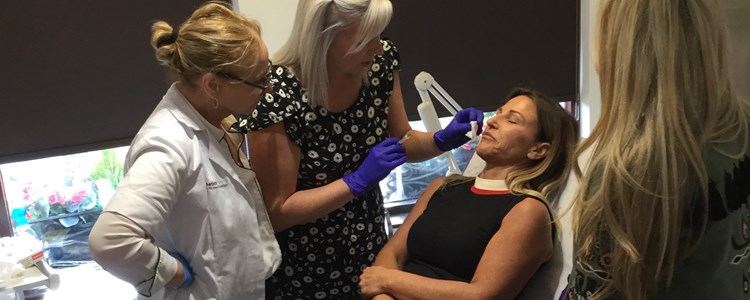 Judging by the level of enquiries we get for our Beginner courses, we know that there are a lot of people out there who want to move into the world of aesthetics. But why exactly? We asked five delegates, past and present, to tell us what they love about being an aesthetic practitioner.
Flexibility
For me, it's the flexibility that comes with being my own boss. I've set up a treatment room in my home, which means I've got complete say over how often I work and when. It's taken time; I had to put in a lot of hours building up the business while also working at my NHS job, but I was able to leave that job last year so that I could focus on doing this full time. I've got two young children, so it's wonderful being able to be at home with them more often. Of course, I still have to be quite strict with myself and aim to work the same days and hours most weeks, but if I ever want to take a day off mid-week, or start late, I can! It works the other way as well; if I've got a lot of demand for appointments, I can just add an extra evening session, or work a couple of longer days to accommodate people. I love having that level of control over my working week.
Lisa, Midlands
Making a difference
It probably sounds quite corny, but since I trained in Botox and filler in 2017, the best thing for me has been seeing the difference aesthetic treatments can make to people's lives. I've had patients look in the mirror and cry tears of joy when they've seen their reflection and it's an amazing feeling to know that I've done that. Obviously not everyone is going to have a life-changing experience having a Botox treatment! But you do meet people who are so down on themselves when they first come in and then, after you've treated them, you see their confidence levels improve right before your eyes. I love it.
Eleanor, Yorkshire
Every day is different
I offer a lot of treatments at my clinic, which means that every day is completely different. On an average day, I might start off with a lip enhancement treatment, then have a PRP patient, then see a few Botox patients for their reviews, then carry out a consultation for cheek fillers, then do microsclerotherapy! It keeps things interesting knowing that each day will be different from the day before and that I'm constantly having to utilise different skills and expertise. You also get to meet all sorts of people; some of my patients are real characters, which is great fun.
Robert, Cheshire
Learning new things
I must admit, I trained in Botox on a whim just over four years ago because a couple of my colleagues had done it, and I was absolutely fascinated from that first course. Since then, I've kind of become a bit of a geek about aesthetics as a whole. There are always opportunities to learn new things, whether that's through taking on a new product or treatment, attending a conference or seminar about a new technique or just speaking to other practitioners at events and learning from them. I'm always looking to pick up tips and tricks for how to improve and give the best treatments ever. I think if you're passionate about something, it doesn't feel like work.
Sam, Merseyside
Getting to know people
I've only been practising aesthetics for twelve months, so I'm still very much finding my feet, but what I've really enjoyed so far is getting to know my patients. That first consultation is a great opportunity to have a proper chat with someone and build a rapport with them and then, as they start coming back for repeat treatments you get to know more and more about them each time. I love having a little catch up with someone at the start of their appointment! I've even had a few patients bring their mum or sister with them when they've come back, so I feel like I'm getting to know the whole family!
Kirsty, Lancashire
If you're interested in becoming an aesthetic practitioner, our two day Beginner's Botox and  Filler course (with optional third day) is a great place to start. We also now offer the Level 6 qualification in Aesthetic Injectables, which is open to medical practitioners of all experience levels, whether you're completely new to aesthetics or have already trained and wish to convert your existing qualifications to Level 6. For more information on any of our courses, email hello@facetheticstraining.co.uk or call 0151 559 0865.