Reading time: approximately 4 minutes
Lip enhancement with dermal filler has been a popular aesthetic procedure for many years, however, recently, the demand for this treatment has increased exponentially.
If you're a medical professional taking your first steps into aesthetics, you're probably planning to train in dermal fillers and, more specifically, lip enhancement.
However, there are A LOT of lip filler training courses out there.
How do you know which course to choose? 
Which course will be best for you AND for your patients? 
First and foremost, remember that lip enhancement is a medical procedure that requires a great deal of skill and knowledge. 
With this in mind, you need to know that the lip enhancement training course you choose will equip you with all of the knowledge, understanding and skill to enable you to feel safe and confident when you perform this treatment.

The Facethetics Lip Course by Yvonne Senior.

Facethetics Training launched back in 2014 and quickly earned a reputation for delivering aesthetic training courses of the highest quality. 
We are constantly updating our existing courses, while also developing new ones, combining our own knowledge, advancements in the industry and feedback from our delegates.
The Facethetics Lip Course by Yvonne Senior incorporates everything you could possibly need when it comes to safely and successfully contouring and volumising the lips with dermal filler. 
Build upon your foundation filler knowledge

Learn how to assess the lips and develop an injecting plan based on this assessment

Feel totally confident in treating the lips

Give your patients the best possible lip enhancement results
Yvonne Senior
Yvonne Senior is our Lead Educator at Facethetics. With over 20 years of experience in aesthetics - both treating her own patients AND training other practitioners - Yvonne's knowledge is extensive.
She is passionate about training and is forever updating her own practice through academic articles, research papers and international sources. If Yvonne ever comes across a relevant study, article or development in the industry, you can guarantee that she will find a way to add it to one of our training courses.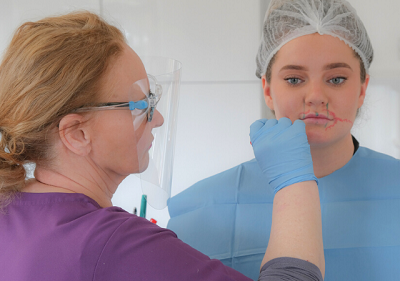 Treat the individual
Lip filler, like all aesthetic interventions, is not a "one size fits all" treatment. 
The Facethetics Lip Course will equip you with the tools to assess your patients individually and make a clinical judgement about which technique to use for the best outcome.  
Using in-depth, evidence-based applied anatomy of the lip, you will learn to determine the safest, most effective placement of hyaluronic acid to create beautiful lips and balance the face.
Following on from this, we also look at lip "trends" and myth busting around specialist techniques that are often nothing more than clever marketing fads.
Practical session
As you know, the practical session is a vital part of training. 
As with all our courses, we include hands-on supervised injecting of live models to allow you to put everything you've learned into practice. 
We always aim for a variety of models of different ages and with different lip enhancement requirements, to further enhance your learning and understanding of assessing each patient as an individual.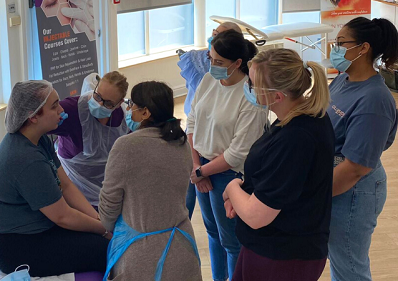 Complications
Complications are a major concern for practitioners, regardless of where you are in your career, so we make sure to dedicate plenty of time to this subject. We ensure that delegates feel confident and fully understand how to; 
reduce the risk of a complication 

identify and recognise the signs of a complication

manage a complication, should it occur
What you get
In addition to the training itself, you will get;
In-depth pre-course reading to prepare you for the training day

Video tutorials

Consultation documentation

FREE Observation Days

Optional starter kit

Optional workshops

Ongoing support from our team

Access to the Merz Educational Platform
Course details
The Facethetics Lip Course by Yvonne Senior is open to medical professionals who are already trained in foundation dermal filler.
The course is £650 + VAT. It can be attended as a standalone course OR as the third day of our Combined Botox & Dermal Filler 3 Step Programme.
For full details, including the full course agenda and dates, and to book your place, click here.