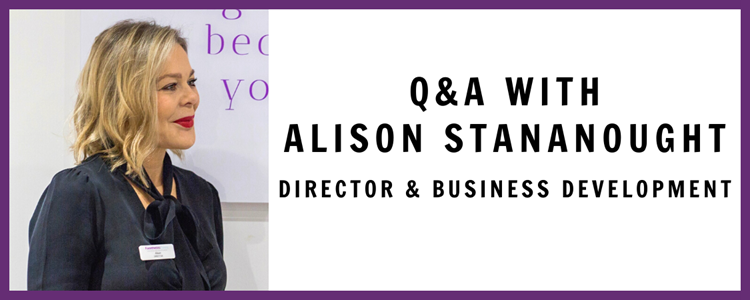 Hi Alison, what do you love about your job?
My absolute favourite thing is seeing our newly-qualified practitioners build flourishing aesthetics businesses, making more and working less, adding £35,000 a year to their current income with 3 treatments a week!
Another favourite part of my job is coaching our graduates in how to set up a successful clinic, how to find patients by leveraging current connections, and how to attract affluent patients. Show me your aesthetics business plan and I will see what I can do for you.
I love my job, but I also love my downtime. My family and I often take trips to North Wales, enjoying the beautiful beaches and wilderness. It's a great place for a holiday and I love that my job has enabled us to spend so much time there, making memories. With all the extra income, our delegates can have some pretty amazing holidays too.
You really did start from scratch. Tell us about your journey.
I started my own aesthetic and beauty clinic in my garage in 2003 when the youngest of my four boys was three years of age. On one occasion we had a leaking roof and no electricity and it was treatment by candlelight! 😊I was a holistic practitioner myself, with a strong interest in mental health and wellbeing. My driving force was finding a way to help family who were suffering.  I quickly discovered that not only could we make people feel better on the inside but by working alongside and employing medical practitioners, I could help people feel better on the outside too, enhancing both their inner and outer beauty.
It was a lot to juggle but in a few years, I was out of the garage and purchased a 16-room property, which is where Yvonne and I run Facethetics Training from today, having come together in 2015 to form one of the best training academies in the country.
I don't inject patients myself: it's a job strictly for the professionals! 
The beauty market is booming in the North West, especially Liverpool. How has that shaped your business? 
I learnt very quickly that the lovely ladies and gentlemen of Liverpool are a discerning clientele, who demand the absolute very best in customer experience along with the latest techniques and products. 
After running multiple clinics and learning what my customers adore, I now apply these gold standards to every aspect of the training experience we offer at Facethetics.
I'm absolutely delighted in the recent surge and demand for facial rejuvenation. We have an ageing population that wants to look good, and shifting attitudes about beauty, wellness and healthy ageing mean that there has never been a better time to train as a practitioner. 
In fact, annual growth of this market could be as high as 14% per year. 
So many of our graduates go on to have a lucrative side career in facial aesthetics, working a few evenings a week and weekends, to top up their earnings with a significant amount of extra cash.
This really excites me – it's a life-changing opportunity to take control of your life, and to thoroughly outpace that cost-of-living increase that's in the news so much.
You've attended a lot of training yourself over the years?
There is not much I don't know after 22 years in this industry and I just love to share this knowledge with our Delegates, chatting to them about products and treatment outcomes and at the same time supporting them with their business plans.
In order to coordinate training, I've had to be well-trained myself. I'm very well versed in all aspects of aesthetic treatments, from consultations and managing patient expectations to protocols, aftercare and complications. I have attended many industry seminars and conferences over the years, and have an extensive knowledge of non-surgical treatments using Botulinum Toxin, Dermal Fillers, PRP, Skin Boosters, Microsclerotherapy, Advanced Skin and the list goes on! I have my own teaching, assessing and quality assurance qualifications.
With the above experience and my personal speciality in customer service, I can ensure best practice, internal quality and standardisation across our training portfolio, making sure that the courses run as smoothly as the foreheads our delegates work on.
What attributes did you need to get where you are? 
I base everything on 'what I would want as a customer.' And as a customer, I'm very discerning, just ask my son (he's my hairdresser!)  
Ambition, fierce drive and inner strength have made this all happen. I built Facethetics with meticulous business planning, understanding growth, marketing, system development and protocols.  I like to say I get things done.  
The worst business decisions are doing nothing! Knowing how to evolve a business is key to survival, and Facethetics is always at the leading edge of innovation. With an ability to research and to get to the heart of things, I then make good judgement calls.  However, I also know when to say I could have done better, I learn and I move on. 
What's it like having four boys? 
Well of course there are many pairs of underpants on the bathroom floor and I certainly know more about Playstation games than I should! Being a mum of four lads has made me tough, but not hard-nosed. I care deeply about people and about the consequences of my actions. I have a passion for seeing people succeed – I love to share in triumph – I am my sons' greatest cheerleader.  
What are your other passions? 
I'm renovating a tumbledown farmhouse by a stream, in a field in Anglesey. The house is nothing more than rubble and ivy. We're converting the field to a deluxe motorhome site – speaking of which, our delegates could soon be treating themselves to a motorhome with their extra income. If you're ever on Anglesey and fancy swinging by, we'd love to see you. Kettle's on! 
OK so you offer a lot of different courses. Where's the best place a healthcare professional should start? 
Our beginners course; from needle newbie to your first paying patient in three days!
If you're looking for the fastest and most effective way to expand your skills in cosmetic injectables, the 3 Day Course is your key. With our thorough pre course reading, you've already got a head start. Our fully qualified educators will then ensure you're confident enough to complete the practical work. You will be able to deliver Botox and Dermal Filler treatments to the face and lips safely and successfully. Our reviews speak for themselves.  
I would say start with Facethetics and be welcomed to the glamorous and prosperous world of facial rejuvenation.