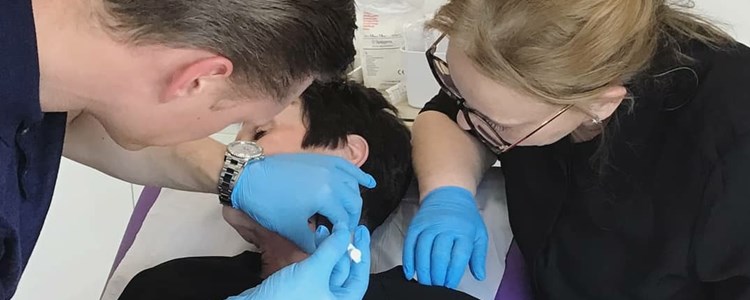 Reading time: 2-3 mins
At Facethetics Training, Liverpool, we believe that injections of Botulinum Toxin A (Botox) play an important role in helping patients to reduce the visible signs of ageing. Generally seen as one of the most "popular" of aesthetic treatments, toxin injections are commonly used by aesthetic practitioners to address lines and wrinkles on the forehead and around the eyes. However, despite its popularity, many practitioners are not making full use of the numerous treatment options available to them with Botox. In addition to the benefits offered when used in the upper face, neuromodulators also provide significant possibilities for helping patients to address the signs of ageing on the lower face and neck. 
At Facethetics Training we believe in teaching the delegates on how to assess and approach the face in its entirety before treating, so the ability to perform lower face toxin procedures is an important part of a practitioners repertoire and toolbox to be able to achieve better more holistic results.
Our Advanced Botulinum Toxin course provides aesthetic practitioners with the knowledge, skills and confidence to take the next step in their aesthetic portfolio and move on to more advanced procedures using toxin. Ideal for any practitioner who has mastered foundation-level toxin treatments, the advanced course covers the use of toxin to treat a number of indications around the lower face. 
Some uses of Botulinum Toxin A in the Lower Face are;
Platysmal Bands. This refers to the muscular bands that run vertically from the bottom of the neck to the top (imagine Corrie's Dierdre Barlow).  Treating these with botox can help with tightening of the neck and re-contouring of the jaw line, often performed conjunctive to filler
Masseter Muscle. The width and shape of the face is determined by the mandibular bone, subcutaneous tissue and the masseter muscle. Helping to relax this muscle with toxin injections can give a more feminine, tapered appearance to the face.
Obicularis Oris Muscle. The constant pull on the upper and lower lip whilst performing every day functions gradually forms vertical lines, which are commonly referred to as "smokers lines" or "lipstick lines". Treatment with a very small amount of Botulinum Toxin A can reduce the inversion of the lip and sometimes a slight augmentation of the lip can also be seen. The perioral lines will soften .
It's important not to be a one trick pony as an aesthetic practitioner and be able to offer the patient a range of treatments because they often don't realise when they are focused or disheartened with one area of the face how other areas are also impacting their ageing and dissatisfaction. Mastering lower face toxin will help you to recognise and treat other indications and surprise the patient with what more you can do. 
At Facethetics Training, we currently offer two courses that include lower face toxin treatments; our Advanced Botox course, which also covers the use of toxin to treat underarm sweating, and our Advanced Botox and Dermal Fillers combined course. If you'd like more information on either of these courses, or to book a place, please contact us by emailing hello@facetheticstraining.co.uk or by calling 0151 559 0865.