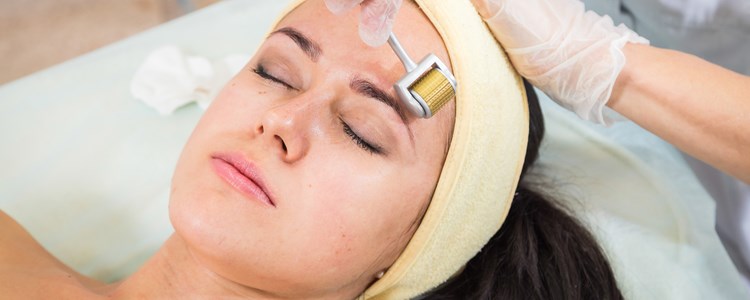 Reading time: 2-3 minutes
Here at Facethetics Training, we offer a full skin plan to guide, treat and enhance your clients' skin, ensuring that all their skin concerns have been met. During training, we are always more than happy to answer any questions to enable you to leave Facethetics with the confidence and capability to treat your clients no matter what skin issues they present with.
Dermaplaning is one of our most popular skin courses to transition into the skincare side of your aesthetic practice. It is an exfoliating treatment involving the removal of the uppermost layers of the epidermis using a sterile scalpel. This is the main focus of the treatment and the end result will present the skin as a wound, as the removal of vellus hair during this process impairs the skin's barrier function.  Although the skin will have a beautiful glow and there is no downtime from this procedure, giving rise to its popularity, we teach you to understand the skin's activity during and post treatment. As we use a scalpel to remove the dead skin, this will have an effect on the skins absorbency and pH level post treatment whilst the absence of the protective facial hair will have an effect on allowing particles in and out of the skin unless correct skincare is advised to your client. We guarantee most of your clients will love this treatment as there is NO downtime, which can sometimes put a client off. You can treat almost all skin types, including pregnant or lactating mums, safely, which will be beneficial for any clients that cannot continue with injectable treatments during pregnancy, allowing you to retain continuous business. Dermaplaning can also be used in combination with other treatments such as superficial chemical peels, micro-needling/skin needling, mesotherapy and injectables to achieve the best outcome for your client.
At Facethetics, the treatment we see as having the most positive influence on the skin and certain skin types such as acne skin, is micro-needling. This procedure can be delivered with manual rollers or with a mechanical device and both are very effective in stimulating natural collagen production in the skin.  With just one treatment, collagen type I can be produced for up to 12 months! This treatment, combined with a good homecare regime including retinol serum, vitamin C antioxidant, hyaluronic acid and sun protection factor will greatly prolong the results. As with chemical peels, progression not aggression is the mantra for achieving great texture, tone and flawless skin. 
The skin does require downtime following micro-needling and skin peel treatments, as the key aim is to create a controlled wound to induce an inflammatory response. This will call upon all resources within the skin to induce proliferation of the cells and regenerate new collagen fibres. For any clients that are not yet ready for injectables, these are excellent treatment options to start with as an introduction to aesthetics. Injectable treatments will sit better within the skin and may even last longer due to the extra collagen support network created by micro-needling.  When combining skin peels and dermaplaning with injectables the results will enhance both epidermal and dermal quality.
If you'd like to learn more about our skin training courses, click here.