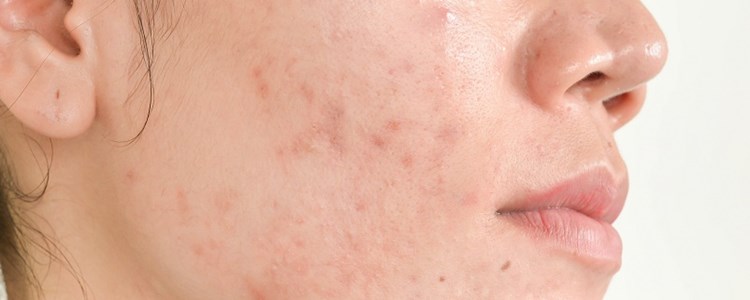 Spring has been a tough time for all of us so far with lockdown dictating everything from who we see, how we exercise, what we eat, if we can work and, of course, no botox or fillers! However, our Skin Specialist and Educator, Shirley Walker, has taken this moment to look at something that can all too easily be out of control even before lockdown. Acne is a difficult condition to live with for anyone but, ironically, this is something people can try to keep at bay while unable to do much else at the moment.
Here are Shirley's top 3 tips to help keep acne from affecting you or your patients too much.
"Acne comes in many different forms but can be managed during lockdown with a few essential skincare products. 
Acids, such as salicylic acid, which is a beta hydroxy acid, is recognised as the gold standard for oil busting! It reduces oil production and cleans pores and can come in the form of a cleanser for homecare use. When using acids at home, be progressive rather than aggressive to avoid damaging the barrier function of the skin.  My product of choice here is Dermaquest Dermaclear BHA cleanser containing salicylic acid and citric acid.
Vitamin C is an antioxidant angel for the skin! It scavenges free radicals and shields us from UV and pollution damage. It greatly boosts our quality of collagen production thus helping to tighten open pores and keep our skin firm while maintaining a healthy glow. Another added bonus of using vitamin c in your daily regime is its superpower to break up hyperpigmentation. Using it in a cleanser/moisturiser is beneficial, but using it in serum form is far more effective. One of my favourites is Medik8 C Tetra lipid Vitamin C serum
While acne can leave the skin looking uneven and problematic, the use of excessive exfoliation is not the answer. This will only lead to skin irritation. Opt for a gentler approach by using an acid face wash two to three times a week, ideally at night time to avoid leaving the skin vulnerable to the UV. Another bonus skin booster for acne management is hydration, such as hyaluronic acid serum. HA can hold 1000 times its weight in water which will result in plumped pores, as well as calming irritation, enhancing the removal of free radicals and acting like a "water magnet" to maintain oil and water balance in the skin.  I recommend Mesoestetic HA Densimatrix, which contains multi-molecular concentrated hyaluronic acid."
Shirley's knowledge and experience of the skin is incredibly vast and her courses have proven ever popular with both beauty and healthcare delegates. If you'd like to know more about the skin courses we offer, visit our dedicated skin website.  Our availability over the phone is a little limited right now but if you're interested in learning more about skin and the benefits our courses can bring to your business, drop us a message via Facebook Messenger and we'll be happy to discuss.