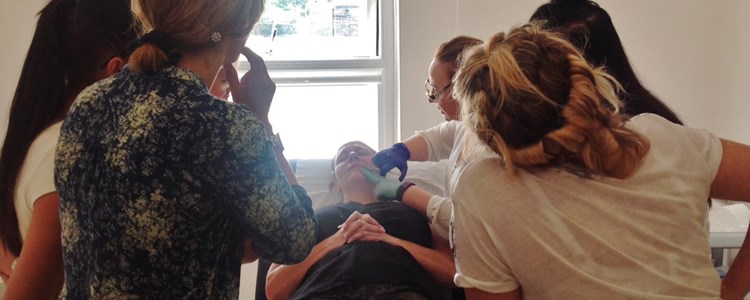 As supplied by PIAPA.
Don't be pulled in by names
A business or training provider can call themselves anything. A name may sound impressive, but it doesn't always equate to quality. Research the trainer, what they have to offer and assess the prices and the travelling costs.
The same goes for branding, a trainer may use or be backed by certain names and manufacturers which on one hand can be a good sign, they are more likely to have had a degree of vetting but may also be influenced by the same manufacturers incorporating their products into the training when they may not be the best on the market for certain procedures.  If you take Thread Lifting as an example there are various threads on the market with differing results and differing complications, speak to suppliers and get online to research which you think you would want to use and choose a trainer that can offer an unbiased opinion of products or teach you in multiple ones
Insurance
All good trainers will have comprehensive insurance that covers them not only as practitioners but also as trainers.  This means they will have had to provide their credentials to the insurers who will grant them indemnity for their courses based on these.
Content
If you're entering into an aesthetic course the chances are it will cost a considerable amount, you want to know that the content included will cover what you need to know to get on your feet and start practicing in that procedure.  Most academies will disclose their content and what you should expect to be able to do by the end of the course but they are unlikely to release their full academic reading and content in advance due to copyright.  Check the main features of the course and compare it to others in terms of cost, comprehensiveness and materials you can take away.
Reviews
There's almost no such thing as an unbiased review but where possible it's always good to check with others in the profession who they would recommend in the industry for aesthetic training and why.  Use membership groups to steer you in the right direction but always take people's advice with a pinch of salt and don't rely solely on reviews remember to do your own homework
Delegate to Trainer ratio
You don't want to feel like one of many on a production line so an ideal number of delegates to trainer is no more than five.  Many courses will pack in as many attendees as possible with a ratio of 10 people to a trainer, but ultimately, each delegate will be paying a sizeable amount and will need to be treated as an individual learner as much as possible to allow for different levels of experience and pace of learning.
Post-course support
The biggest complaint from so many practitioners about their training is that they felt completely isolated after completing their course with little to no support once they have left the training building.  Make sure a training company offer adequate post-training support with access either by phone or email but be reasonable with your level of demand, they still have to run their business and treat patients so their time is precious but equally they shouldn't want to send anybody away without a safety net of advice once they start practicing. Some training academies offer top-up days for low costs or for free and some will offer you a bolt-on session if you're not yet feeling confident or they feel you aren't yet ready to treat patients unsupervised.
Price
Just as we say with patients, if the price is too good to be true… then it probably is.  Do your homework on all of the above topics and if all the right boxes appear to be ticked then be polite but forward and simply ask why the course is so cheap? They may be new to the training arena or just very good value but there are plenty of overheads to be met with training so find out what a good average cost of your course in the area is.  Likewise if the course costs a fortune it doesn't necessarily mean it's good.  Don't fall into the trap of thinking a high premium equates to high quality, as mentioned with big names and the Harley Street syndrome before, it's a little like purchasing a laptop from a high-street retailer and purchasing the same laptop in Harrods, you're going to be using the same device but chances are at a much higher premium.
Hands-on Experience 
Confidence after completing your training is essential and this can really be only achieved if you're training provides the opportunity for some hands-on experience with a model. Theory and practice are two very different things, you want that confirmation from your experienced trainer that you've understood the techniques and science taught in the class and can physically replicate it.