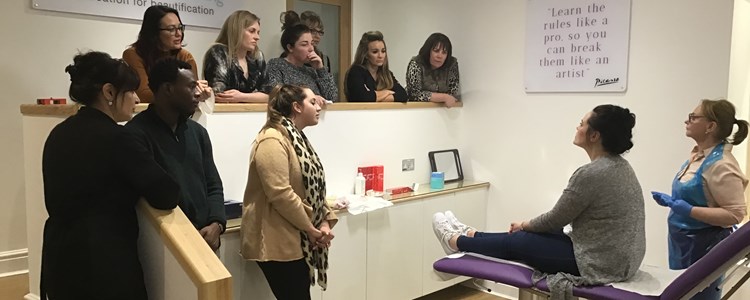 We held our first ever Advanced Lips Workshop earlier this month and we had such a lovely evening! After hearing back from some delegates who felt that they could use a bit of extra support, just to boost their confidence when it comes to certain treatments or indications, we got our thinking caps on and decided to come up with a new training format! The Facethetics Workshops are informal evening sessions that allow past delegates to come back, share their experiences, ask questions and generally just have a chat about how they're getting on. Here's a little taster of how it went;
We're firm believers that you never stop learning, and we've found ourselves that attending seminars and industry events that allow us to mingle with other professionals in the aesthetics industry can be invaluable when it comes to personal and professional development. Sometimes you just need to have a chat with someone who's in a similar position to you so you can share ideas and tips and even just have those conversations that go, "that's happened to me too! How did you deal with that?"
We felt that the Workshop format would be a great way to bring lots of our delegates back to Facethetics, get them all into a room together and have some conversations. As lip enhancement is of course one of the most popular medical aesthetic treatments, and something that we get a lot of questions about, we focused the first workshop around lips, however, we plan to focus on a variety of different treatments and subjects in the future.
As well as doing lots of talking, Yvonne carried out a full demonstration of lip enhancement treatment, because, it's always good to see another practitioner at work isn't it! 
We had a lovely group for our first session and some of them were kind enough to give us a bit of feedback on camera. Here's what they thought of the workshop;
We will next be running a Complications Workshop on Tuesday 7th May from 5pm until 8pm. As you can probably imagine, complications are a hot topic so we expect this to be a very popular event! The session is £83 plus VAT per person, which includes light refreshments. If you would like to book your place, contact us ASAP on 0151 559 0865. We hope to see lots of you there!