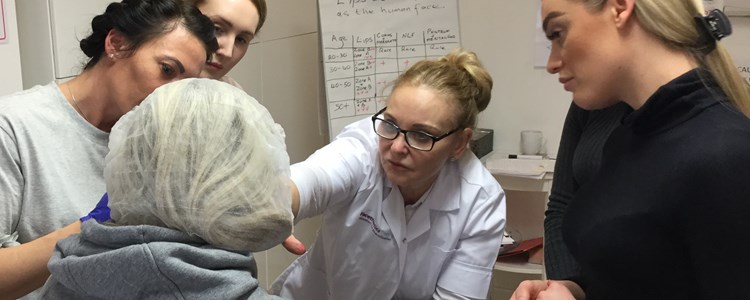 We receive countless enquiries from practitioners looking to move into the world of aesthetics who specifically want to learn how to carry out dermal filler treatments, and, in particular, lip enhancement procedures. This is no doubt due to the current trend for plump, fuller lips that we constantly see in the media. We often hear from people who only want to learn how to treat the lip area, however, we always explain to these people, that in order to train in dermal fillers, it's vital to start with a beginner or foundation level course first, before moving on to the lips. In this blog post, we are going to break down the various dermal filler courses available at Facethetics, and the best order in which to complete them.
Beginner's Dermal Filler
It may sound obvious, but if you're completely new to dermal fillers, the best place to start is with a beginner's course. This will provide you with all of the underpinning knowledge required to safely practice dermal fillers, such as contraindications, different products, injection technique and how to deal with complications. There is so much more to a dermal filler treatment than just knowing where to insert a needle, which is why it's vital to start off with a beginner course in order to fully understand the theory behind fillers first. While the content of a beginner course will somewhat vary depending on the training provider, at Facethetics Training, our Beginner's Dermal Filler course focuses on the lower face; delegates will learn how to treat the nasolabial folds and marionette lines as well as the blanching technique for fine superficial lines, such as those at the edges of the lip.
Once a delegate has completed the beginner course, we usually recommend that they take some time getting used to the procedures they have covered and building up their confidence in performing these treatments. It can sometimes be tempting to move straight on to the next "level" and take on a more advanced course, and we often receive enquiries from people who attend all of our filler courses in quick succession, however, this can often be counter-productive as there is A LOT of content to take in during the various courses, which may be overwhelming. We generally find that learners are far more successful when they take the time to master the basics before moving on to something more challenging.
Intermediate Lips and Cheeks
The Facethetics Lips and Cheeks course was added in 2018 after we noticed a demand for a "basic" lip filler course for those delegates who were feeling confident after their beginner training, but weren't quite ready for the more advanced Lips Masterclass that we offer. We now recommend that all our delegates attend this course following beginner training, as it provides them with a great starting point for offering lip enhancement treatments, as well as an introduction to cheek enhancement.
Advanced Dermal Filler
An advanced filler course is ideal for aesthetic practitioners who have built up their experience with "basic" dermal filler treatments, are carrying out these procedures regularly and feel ready to move on to more advanced indications and techniques. At Facethetics, our Advanced Dermal Filler training is done as part of our Combined Advanced Botox and Filler course, as we find that most practitioners are ready to learn advanced Botox techniques at the same time and we are also then able to teach delegates how to use the two procedures in combination. The dermal filler part of the training course includes jawline contouring, chin definition and more in-depth cheek enhancement.
Lip Enhancement Masterclass
A lips masterclass could actually be completed before or after attending an advanced filler course. The main thing is that delegates should already have some experience of treating the lips with dermal filler, and feel confident injecting the lip area. It is a great opportunity for practitioners to really hone their skills and learn new tips and techniques for treating the lips. At Facethetics Training, we put a lot of emphasis on the assessment that must be done prior to treatment, as well as tiny adjustments that can be made to individual lips to ensure flawless results every time.