Duration: day
Level: Intermediate
Price: £300 + VAT
Entry Requirements:

Aesthetic Practitioner who has completed Dermal Filler Foundation Training

MEDICAL
Sunekos Patented Formula (International)
SUNEKOS is the new dimension of anti-aging.  Collagen+Elastin+Hyaluronic Acid for dermal Biogenesis.
Class III Medical Device
PATENTED FORMULA Through In vitro and in Vivo studies it was identified the precise qualitative and quantitative Amino Acid formula that together with Hyaluronic Acid can promote a physiological production of collagen and elastin.
The specific AA combination is capable of:
Stimulating the fibroblasts to produce these components.
Regenerating new young fibroblasts producing a complete mix of collagens including collagen type IV.
Indications:  Loss of tone, skin ageing, skin dryness, premature skin ageing, solar elastosis.  Sagging Skin and Severe Wrinkles which are mainly caused by loss of volume are treated with Sunekos 1200 and Sunekos 200 are used together to create a cushion technique.
Areas that can be treated:
Face, Neck, Decollete, Hands, Arms, Inner Thigh, Knees, Under-eye
Due to the capability to produce new ECM, it is particularly effective to reduce dark circles.
Injection techniques:  Interstitial Fluid Technique is the proprietary technique delivers faster results or micro-bolus or retrograde linear injection
Treatment protocol is 3 to 4 treatments  at 7/10 day intervals.  Repeat at 6 months.
Visible Effects
Anti ageing action
Skin texture and elasticity improvement
Superficial wrinkles and expression lines reduction
Deep hydration
Improves the appearance of scars (including acne) and stretch marks
Promotes radiant and smooth skin
Clinical Evidence
ECM bio-regeneration
Bio-Revolumetric effect
Filling "efficacy"
Plumping activity
Deep moisturizing activity
Anti-radicalic action
Elastosis prevention
Extra Cellular Matrix (ECM) homeostasis is critical for all tissues.  Hyaluronic acid and specific amino acids are required.
Giving synthetic stimuli (specific amino acids) to fibroblasts to produce collagen and elastin.  Only certain amino acids with a specific combination can stimulate this process.
SUNEKOS is the new dimension of anti-aging.  Collagen+Elastin+Hyaluronic Acid for dermal biogenesis.
The formula stimulates fibroblasts, regenerating new young fibroblasts, producing a complete mix of types of collagen including type IV.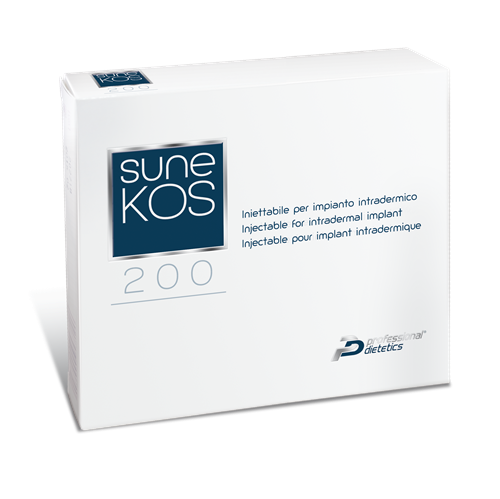 Enquire Now
Book Now
Presentation and overview
Demonstration
Practical hands on
Q & A
Finance also available
Please use the calculator below to see the monthly cost to you if applying for finance.
| | |
| --- | --- |
| Term | |
| Deposit amount | |
| Loan value | |
| Monthly payments | |
| APR | |
| Total amount payable | |
Apply for finance
Aesthetic Practitioner who has completed Dermal Filler Foundation Training