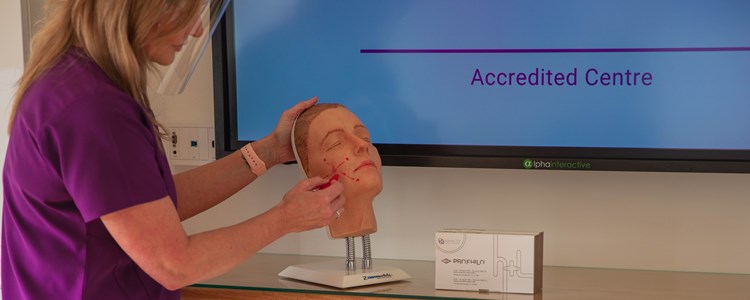 Duration: 1 Day
Level: Intermediate
Price: £499 all inclusive
Entry Requirements:

This course is open to Doctors, Dentists, Nurses and Midwives, Pharmacists, Dental Hygienists and Dental Therapists and selected Healthcare Professionals. 

MEDICAL

SKIN
Course Dates
Book Now
This course is our own in-house training course and not one endorsed by IBSA.
All our trainers are certified teachers, the product we use is genuine product sourced from reputable pharmacies and the techniques taught are recommended injection techniques and usage complies with the PIS and SPC.  Marketing materials may be restricted.
What is Profhilo®?
Profhilo® is a new and effective injectable with clinical data to support the improvements in skin texture, elasticity and hydration. 
Consider Profhilo as Bioremodeling.  Profhilo® uses a process of thermal cross-linking to stimulate 4 different types of collagen and elastin by the slow release of Hyaluronic Acid (HA).  This stimulation leads to significant tissue improvement, both by tightening and hydrating to remodel the ageing and sagging tissue whilst reducing the risk of side effects due to the 'lack' of additives and purities of the product.
During the 4 weeks post treatment, as Profhilo® diffuses within the tissue, the patient will start to see skin rejuvenation and younger, healthier looking skin.  Every patient is different and time can vary between seeing results, up to 8 weeks.  The patient is followed up with a second treatment session, occasionally a third and will benefit from the following:
Plumping effect
Increased elasticity
Lifting effect
Tissue regeneration
Redefining
Where can be treated with Profhilo®?
 Profhilo® can be used on the:
 Profhilo® comes in a 2ml pre-filled syringe.
Your Training
We provide you with comprehensive online learning prior to attendance at Facethetics Training. Click here for a guide on logging in to your online learning. We do this so that you can use your precious time effectively.  Here at Facethetics we understand the importance of hands-on live practical experience.
Your online learning will contain the science and theory for this wonderful product along with tutorial videos to remind you of injection technique, product placement and to reinforce consultation and knowledge. 
Consultation is an important part of the treatment and we show the consultation procedure, information to give to your patient, how to manage their expectations plus offering tips and guidance on how to deliver your consultation.
Our training venue is welcoming and personal.  Our attention to your learning experience is second to none, encompassing the all important ongoing support.
Please enquire or drop us a call on 0151 559 0865
We look forward to welcoming you!
MODELS
The cost to have treatment as a model is £150 for the first treatment
If you would like to have a second treatment in clinic, the cost is £200
Enquire Now
Apply Now
Cancellation Slot
OFFERS
9.45pm:     Registration 
10.00am:    Review of Assessment Questions
10.30am:    Consultation & Live demonstration of a Bioremodeling treatment carried out by our Educator
11.15am:    First model for practical by Delegate
12. 15pm:   LUNCH
Further models for practical hands on training.
The day will finish according to the number of delegates booked on but no later than 5.30pm.
We do not take more than 4 delegates.
Every delegate will have their own model.
If you would like to be a model on the day, please let us know.
This course is open to Doctors, Dentists, Nurses and Midwives, Pharmacists, Dental Hygienists and Dental Therapists and selected Healthcare Professionals.